GEZE at the design and architecture event ARCHITECT@WORK
What do innovative door solutions look like that make buildings more "liveable"? Comfortable, visually more appealing and safer? Experience these award-winning highlights.
MSW Comfort manual sliding wall system
The new mechanical automatic MSW Comfort panel locking system simplifies the construction and disassembly of shop and system fronts. The units, which are integrated into the lower panel profile, lock automatically to the floor and to each other by sliding the panels.
The FA GC 170 wireless extension for hold-open systems: wirelessly discreet – with TS 5000 SoftClose
Cable connections to GEZE hold-open systems are replaced by wireless ones. This clever retrofit solution makes hold-open systems even more convenient and "invisible".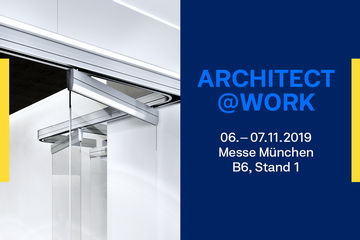 ARCHITECT MEETS INNOVATIONS MADE BY GEZE
Date: from 06. - 07. November 2019
Location: Messe Munich, Hall B6, Booth 1
We're looking forward to seeing you there!